What is a fulfilment warehouse?
10. 27. 2021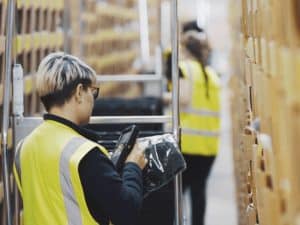 Fulfilment Centre vs Warehouse – What is the difference?
Our Essex Fulfilment Warehouse is the perfect solution for eCommerce clients, and here's how!
A warehouse and a fulfilment centre share the same meaning, but both have different significances. Both are large buildings that store inventory for businesses that sell goods.
When looking for a warehousing solution this usually refers to a company that store goods for a given period of time. Usually inventory is stored in bulk. Looking for a warehouse provider in Essex? Read more here.
A fulfilment centre is the physical location from which a 3PL (third-party logistics) provider fulfils customers orders for retailers who operate their businesses online. 
Delamode's Essex Fulfilment Warehouse does just this. We specialise in the storage of goods, order fulfilment and dispatch management for our eCommerce customers. 
How does it work?
Our Essex fulfilment warehouse consists of operations that work by helping to get online orders to consumer's doorsteps. This is also known as the order fulfilment process. 
Our fulfilment warehouse in Essex supports in relieving retailers from manging their entire fulfilment process themselves, and instead we take care of it for them. Our fulfilment centre is equipped with enough warehousing space to store goods and the operations to fulfil customer's orders. This includes everything from controlling inventory, picking and packing the orders to dispatch management and managing returns. More information can be found here.
Operations 
Unlike warehouses, fulfilment warehouses have continuous movement. Our Essex warehouse operates all the time in order to fulfil orders for customers in a timely manor. Fulfilment services include:
Receiving stock
Generating pick lists and picking the physical items
Kitting and assembling items
Packing the goods into boxes
Labelling the boxes
Shipping the order to customers via courier 
Managing returns
Benefits of using our warehouse in Essex
Eliminate storing goods and packing orders
Physical space is not always possible for retailers and therefore it is common for many eCommerce businesses to outsource their inventory and fulfilment processes by using ecommerce warehousing. Additionally, if you don't want to pack boxes each day, then a fulfilment warehouse is the perfect alternative. 
Packing online orders is a task that can be easily outsourced and why not take the time out of order fulfilment and instead focus on other aspects of your business. Focusing on marketing, customer service and product management can all benefit your eCommerce business by saving time and stress of the operational aspects and fixating on the strategic elements.
Leave it to a warehouse provider
Delamode's fulfilment centre in Essex can handle all operations from the storage of goods to order processing and inventory management, as mentioned previously. We have the expertise to make your business more efficient and you can even benefit from cost savings with our well-established connections with couriers.
Automation with our Warehouse Management System
Our fulfilment centre also offers your business seamless integration with our WMS (if you wish). Our Warehouse Management System enables us to integrate with multiple systems, keeping you fully up to date with extensive reports and management information. This permits you to work across multiple channels, monitor stock levels in real time and see returns information. More can be read here. 
In conclusion, managing your inventory efficiently and cost effectively is critical for eCommerce businesses nowadays. To find out more information on our Fulfilment Warehouse based in Essex, please click here.
Get in touch with us today by letting us know your requirements and we would be happy to assist you.
Visit here
Email: [email protected]
Tel: 01376 333000