Delamode UK shortlisted for European Logistics Award
11. 08. 2016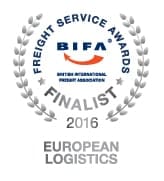 The British International Freight Association (BIFA) has announced that Delamode Plc is a shortlisted finalist in the 2016 BIFA Freight Service Awards.
Delamode has been shortlisted in the European Logistics Award category. A service category that was open to companies providing road, rail and short sea services.
The BIFA Freight Service Awards is recognised as one of the most prestigious competitions in the freight and logistics industry, with the purpose of rewarding high standards and professionalism and recognising companies offering best in class services.
The winners of each category will be announced at the BIFA Freight Service Awards ceremony on 19th January 2017.