Delamode named freight carrier of the year
12. 14. 2017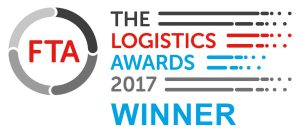 We are delighted to announce that Delamode collected its third industry award of 2017, after being named freight carrier of the year at the FTA Logistics awards.
Delamode, a division of Xpediator Plc, has enjoyed a successful year winning in total three awards, commencing with The British Institute Freight Association (BIFA) in the European Logistics category and The Chartered Institute of Logistics (CILT) in the Information Management Category. As well as being shortlisted finalists in the Service Innovation category of the Global Freight Awards.
Delamode's Group Marketing Manager, Dave Gladen, said: "2017 has been very successful for the Group and it gives us great pride in receiving recognition through these awards in relation to our service quality and innovations.

"Awards like this are very important to celebrate our success collectively as a logistics industry and it's great to see such a diverse range of companies brought together by FTA"
The FTA Logistics Awards have been launched to celebrate the industry's role in delivering the raw materials and products required and made by businesses in a wide variety of sectors.
FTA chief executive David Wells said: "The inaugural FTA Logistics Awards have proved a great success, celebrating outstanding performance in multimodal supply and logistics from organisations both big and small."

He added: "The logistics sector often goes unrecognised and yet its work forms the backbone of British industry – without it, Britain simply would not keep trading.

"Our members supply everything from raw materials for our factories, to high-tech devices and medication for hospitals, along with food to every single supermarket and corner shop in the UK."