Delamode Bulgaria become member of (OPCA)
06. 18. 2020
Delamode Bulgaria is pleased to announce that it has become a member of the Overseas Project Cargo Association (OPCA).
OPCA is a premium, global agent network of professional project cargo freight forwarders and logistics companies. It was launched in January 2014 to provide a high level of expertise for the transport of XXL cargo and complex project cargo shipments on a global scale through its experienced and qualified member agents.
OPCA serves "Project Focused Networking Strategy" which refers to gathering the project cargo specialists who have glorious background in project cargo field and are willing to collaborate with fellow agents based on project cargo shipments and management. Project cargo shipments are the highly specialised form of transport, covering the domestic or international movements of equipment, materials or goods from production to construction site. These pieces of equipment and materials are critical for construction, operations and maintenance of various large-scale projects. These large-scale project shipments consist of many sectors, like: Oil and Gas, Wind Power, Railways, Petrochemical Plants, Chemical Facilities, Power Generation, Mining Operations, Steel Mills and Infrastructure.
Highly complex project cargo shipments should be managed safely by a highly-skilled and professional global team through tailor-made solutions. OPCA members are hand-picked agents, based on membership requirements, to keep certain quality standards, and they handle their clients' million dollar cargo with experienced partners in a safe manner. Moreover, OPCA encourages the members to bring their most reliable and experienced partners among OPCA professionals through the 'Refer a Friend Program'. It leads to having well-known project cargo agents whose services are exclusively tested by our members.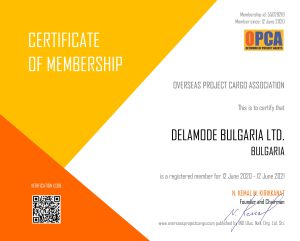 Yordan Stoyanov, Managing Director, Delamode Bulgaria, commented "As an international freight management company offering oversized cargo solutions, we are delighted to have joined OPCA.  A unique and high level of expertise is required to handle oversized cargo and to be part of this network demonstrates our competence in this area and signifies our ability to offer outstanding services and customer support to our clients."