Delamode Balkans makes donation to Blic Foundation
09. 07. 2016
Since the beginning of 2015 Delamode Balkans has been running a campaign called 'Give Me 5'.
Give Me 5 is a service initiative that offers customers special monthly promotions linked to the number 5. Furthermore, the main key focus of the campaign is the company's pledge to donate €5 from every shipment to a local charity.
As a result of the campaign Delamode Balkans has recently donated 1 million dinars to the 'Blic Foundation', a specialist maternity hospital. The money raised will help towards the purchase of specialist ear screening equipment. On average, the hospital delivers 430 babies each year and due to this donation every baby can receive a vital hearing test going forward.
It is very important that any signs of hearing loss are detected immediately after birth and the required treatment is put in place at an early stage. Research shows that if treatment begins within the first six months, results are much better, and if the treatment starts later they is the potential developmental delay in hearing and speech.
Miso Bozic, General Manager, Delamode Balkans commented "Delamode Balkans is a socially responsible company and we are delighted to be able to support Blic Foundation with the purchase of the hearing apparatus, the new born hearing screening will be of immeasurable importance to the quality of health for all babies. Our Give Me 5 campaign continues until the end of this year and we are inviting all clients to support our campaign to help us collectively further help Blic Foundation and our next generation"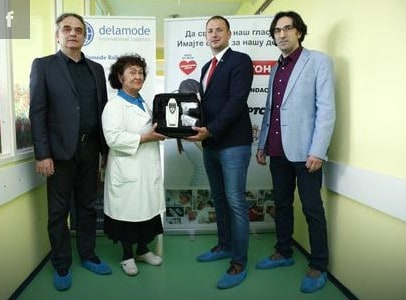 MISO BOZIC PRESENTING ONE OF THE PURCHASED HEARING APPARATUS TO THE BLIC FOUNDATION
DARKO MILETIC PRESENTING THE CHEQUE OF 1 MILLION DINARS TO THE 'BLIC FOUNDATION', RTS1 SERBIAN TV CHANNEL